How to find the right keywords
How to increase the flow of visitors to your website? And how to increase not only the flow of visitors, but also the number of purchases?
What are keywords?
Keywords in the context of SEO are words and / or phrases that people type in the search bar when searching for something - product, service, explanation, guide, description, event…
Keywords are SEO (Search Engine Optimization) is basically because SEO aims to get that when someone enters the name of your service in a search engine - a reference to your website in the SERP (Search Engine Results Page) would appear higher than references to your competitors' websites. Why? Because the CTR of reference 1 in the organic search results (Click-Through Rate) is 28.5 - 39.6%, the second - 15.7 - 18.4%, the third - 10.1 - 11% and only about 2% searchers click on the tenth. By comparison, the CTRs for the first 1 to 4 ads that appear at the very top of the SERPs range from 1.2% to 2.1%. In 2020 organic search results had a CTR of 33,95%, ads shown in the SERP were 1.59, and 64,82% were not followed at all. The conclusions are obvious - if you want people to search for your product, service or anything else on your website - the reference to your website should be in the Top 3 of organic search results, or at least in the Top 10.
Defining the target audience
The aim is to describe potential buyers so that:
They could be easily identified in the Internet environment;
Describe their habits and needs, which in turn will help you find the words they use to search for the same products, services you offer or similar;
Determine if this audience is large enough to be able to generate enough turnover / profit to grow your business.
This step is self-evident, but is often missed, so it's often unclear whether a particular keyword is appropriate for a company's target audience at all.
For example, if you have a flower shop and you want to expand your business by offering flower delivery, you could define your target audience as:
Everyone who buys flowers - however, this is too broad a definition, because not everyone who buys flowers wants and / or is willing to pay for their delivery;
Men who regularly buy flowers (possible re-purchases), ages X to XX (search queries may be different for each generation), with a monthly income of more than… (are financially independent and can afford both the flowers themselves and the delivery) , marital status and any character traits or habits that would allow them to buy flowers more often than others.
The target audience can and in many cases needs to be further subdivided into segments in order to address each of them as accurately and as effectively as possible, for example - to separate women, etc. It is important to record this result of your work (in writing) so that you can always return to it and evaluate the relevance of not only the keywords, but also other activities of the company to your chosen target audience.
Of course, flowers are also bought by others, but by focusing on those who buy them more often, you will be able to create more targeted content and you will probably reach the majority of other buyers with it.
Keyword research
The goal is to find the words and phrases that people use to search for the products and services you offer…
At this stage, try to find as many different keywords as possible. Many of them will not be used, but you can never know which word will help you find new, interesting and fresh content ideas.
There are several paid tools available for selecting and evaluating keywords, such as MOZ, Aherfs, Semrush, all of which also have free accounts and a variety of free tools. However, these free versions are very limited, but subscribing to their full versions is expensive.
However, keyword research can even be done for free. You probably already have several obvious keyword favorites. Type them one at a time into the Google search engine and note down what Google has to offer similar search queries, and appear at the bottom of the page Related search queries. You can get additional keyword ideas, for example, with tools like Answer the Public or Wordstream Keyword Tool. The result will be a list of keywords.
As an example, let's use the obviously important keyword of the flower delivery business - "flower delivery". Type "flower delivery" into the Google search bar, and Google will show you the most frequently searched phrases similar to the one you're looking for. Record them (preferably Excel or Google sheets so that you can easily process the data later).
Go down to "Related Search Queries" on the search page and record them.
There are several browser extensions that can help you find related keywords, such as: Ahrefs, Keywords Everywhere , Keyword Surfer … Keyword Surfer also shows the free keyword search volume (Volume), which will be important when it comes to keyword evaluation. Install one or more and record the results.
Keyword Surfer also provides a rough estimate of your competitors' website traffic.
In addition, there are several online resources that can also help you find more keywords, such as - keywordtool.io. The free version only shows keywords, but they can be exported to CSV and Excel or copied. Again - Do a search and record the keywords you find.
You can also use the one already mentioned Answer the Publicl, where keywords are grouped alphabetically at the bottom of the page. Again - Do a search and record the keywords you find.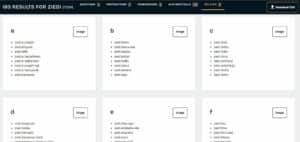 At the moment I have 439 keywords in the list, filtering out the same - 376 remain, of which 127 for flower delivery to a specific city (flower delivery riga / flower delivery liepaja…) and 9 for delivery to other countries (flower delivery in Ireland / flower delivery to England… ).
As a result, one keyword is complete. Repeat this process for all the keywords in your list.
When working in a specific industry and analyzing references to competitors' websites in the SERP, you will definitely come up with many other keyword ideas. Remember that keyword research never ends, as search queries change and you come up with new keyword ideas yourself.
Keyword evaluation
The goal is to find the words and phrases that people will not only get to your website when they search for them (they are more likely to make a purchase than other keywords).
Keyword search volume
You have a list of 376 keywords, but they are not equally popular. The keyword 'flowers' yields around 8,100 searches each month, 'flower delivery' for 2,400 searches, but 'flower courier' for only 170 searches and 'flower delivery for jelgava' for only 40 searches. It probably doesn't make sense to build content by focusing on keywords that aren't used very well or are used very little.
Not all keywords in the list are known to you. Google offers a free keyword evaluation tool Google Trendsshowing graphical search trends for a particular keyword. You also don't need anything more to evaluate how often you use a keyword / search phrase and choose the most appropriate ones.
Topic search volume
However, search volume alone can give a false impression of a keyword's potential because:
Not all searches end with a click, for example - if you type "inch to mm" in the search engine, Google will immediately show you the answer "1 inch = 25.4 millimeters" and you will not need to search for it by clicking on other SERP results;
In-depth articles (reviews, tutorials, etc.) usually qualify for multiple keywords (up to several hundred keywords) - and thus the total traffic that this single article directs to your website may exceed your search volume for one of your chosen keywords several times over.
Therefore, the potential of your keywords should be evaluated by predicting the total traffic to your website, if any article reference will appear in the SERP Top 3. In other words, the importance of the keyword's search volume is declining, but the relevance of the content to the search purpose is becoming increasingly important.
You need to evaluate the potential of the keyword and topic for your business. That is, what is the probability that a person who searches using a particular keyword wants to buy flowers with delivery. Analyze each keyword individually and evaluate its potential - High Purchase Probability (1) / Medium Purchase Probability (2) / Low Purchase Probability (3) / Likely to Make a Purchase (4).
For instance:
People who search for: "flower delivery", "flower delivery", "flower delivery in Riga", "order flower bouquets", "flower delivery 24/7", "wolt flowers"… - most likely want to buy now and now;
People who use the keywords: "The best bouquets of flowers", "beautiful flower bouquets", "flowers in a basket"… - most likely want to buy soon, but are still looking for where to buy and may not want to use the delivery service;
"Flowers", "flower shops" are the most frequently used keywords in our search list, but they are not directly related to the flower delivery service. However, they may bring enough visitors to your site who may start using the service in the future. If only because they will know where to turn after visiting your site, if they need such a service;
People who search for the keywords: "flowers photo", "flowers tulips", "flowers from crepe paper", "flowers in Latvian mythology", "echinacea flowers"… - are obviously looking for something else and you are not interested.
How it works in practice You can check by typing "flower delivery", "24/7 flower delivery", "flowers" in the Google search engine and evaluating the differences in how the search results change for each of these keywords.
Competition for each specific keyword
Or - how much effort will be required to create better / more complete content compared to what is currently at SERP 1. And how long it will take for Google to qualify for the Top 1 or Top 3 search results.
All of the above will be irrelevant if a reference to your article or any other type of content does not appear on the first page of search results in the foreseeable future.
In other words, it's important to understand whether your chosen topic (and keywords) will be able to generate enough traffic in the near future, if not - don't waste your time looking for other topics and keywords.
How do I determine how difficult my keywords are?
Although keyword complexity is determined by many factors, the following are the main ones:
Competitor power / domain authority - for example, if your site is new and you want to build its content based on the same keywords used by another site with a high DA (Domain Authority), You will find it harder to compete for a place in the SERP Top results;
Your site's domain authority - if your domain authority is higher than a competitor's domain authority, a link to your page may be displayed above and vice versa;
Site Content Quality - Google ranks each page (URL) on your site individually. There are quite a few cases where pages with good content (where visitors stay longer and have a lower bounce rate (bounce rate)) appear higher in search results than pages with higher DA, but less good content.
The purpose of the search - no matter how high the authority of the domain and the quality of the content, if Google finds that the keyword entered in the search engine does not match that content, it will not show in the SERP Top. That is, if you search for flowers, you will not see results about the anatomy of storks.
An entire article could be written about this, but the truth is that in Latvia (in Latvian) there is little competition compared to English, Russian or other major languages. As a result, getting into the SERP Top 10 is relatively easier. Just type your chosen keyword into a Google search engine and see the first page results:
If there are mostly domains with low DA (up to 30) - it will largely depend on how high quality and complete content you create for your site. If competitors' DAs are higher, getting next to or in front of them is likely to take much more time and effort;
Go to the first 5-6 references and rate the content of these pages. If you can create / write it better, more interesting, clearer… - You have the opportunity to see a link to your page in the SERP Top 10 in the next few months.
To see the DA of each existing SERP result, add it to your web browser (Chrome or FireFox) MozBar extensionwhich, when you search for each result, will show the domain authority of that site, how many links from other domains lead to that site, and how many domains those links have placed on their pages.
If your DA is above 30, it's best to choose more specific and relevant keywords for your new site. This will get you to the first page of Google search results faster and drive a potentially smaller but steady stream of buyers to your site faster.
Bonus
Research keywords using the Google Search Console
To connect it, you need a domain that is already accessible on the Internet, as domain verification will be required. The Google Search Console is an indispensable tool for monitoring both site performance and error correction, so we recommend connecting it as soon as possible.
Go to Search Console and follow the instructions (don't forget it connect to Google Analytic). As your site develops, it will accumulate data that will eventually be an indispensable tool for evaluating your site's performance, as the Google Search Console is the place where you can most accurately see your site's performance in organic search results and also find new keyword ideas.
Go to Performance / G Search results. Under Performance on Search results, select Search type: Web and under Date: select the longest possible selection period. You'll see all the keywords that Google responds to when referring to your site in our search results.
More You can read about the data available in the Google Search Console HERE.
Research keywords with Google Keyword Planner
This is a VERY powerful tool and has great benefits, as keyword ideas come from Google's database and who knows even better what words are used when searching on Google. Google Keyword Planner offers keyword ideas, some of which you won't find anywhere else.
Google Keyword Planner is completely free. You don't have to create an ad campaign to access Google Keyword Planner - all you need is a Google Account.
Go to ads.google.com  And click the "Start Now" button and follow the instructions. Ignore the menus provided and click "Switch to Expert Mode."
Click 'Create an account without a campaign.'
If necessary, correct and confirm your business information by clicking the "Continue" button. On the 'Verify your payment information' page, click 'Create an account without setting up billing' and then the 'Explore your account' button on the next page.
Click the keyword icon and then drop-down menu to 'Keyword Planner.'
Select 'Discover new keywords.' 
You will see 2 menus - "START WITH KEYWORDS" and "START WITH WEBSITE". Let's look at both options separately.
Start with keywords
Enter a keyword, in which case we'll continue with 'flower delivery.' You can add up to 10 keywords, including phrases consisting of multiple words and also domain names. Additionally, you can filter keyword ideas by your own or any other domain. However, if you're aiming to find as many keyword ideas as possible, it's best not to limit Google's suggestions. Click on "GET RESULTS".
Select all the suggested keywords, select 'Exact Match,' and then click 'Add Keywords to Create a Plan.' And then in the menu on the left to "Forecast".
Set your maximum daily budget and select the 'All time' date range.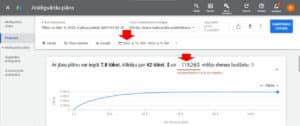 And in the "Clicks" column, you'll see a more specific number of searches for each specific keyword.
In addition, you have the opportunity to evaluate the commercial potential of each keyword - in the column "Avg. CPC "(Average Cost-Per-Click) Click the title to sort your CPCs from highest to lowest. The higher the CPC, the more demand there is for this keyword - so it's more likely to be more effective.
Tip. Add the extension to your Chrome browser before you start working with Google Keyword Planner Keywords Everywhere and you may see the number of searches for keyword ideas offered by Google as soon as you enter your keywords (sometimes it doesn't work, I don't know why).
Get started with a website
This is the most interesting part, because this option allows you to find out which keywords your competitors have qualified for. Enter a competitor's domain name. We will use the SERP Top 1 reference with the keyword "flower delivery" - the domain "linneja.lv", tick "Use the entire site" and click on "GET RESULTS".
And you see all the keywords that this site has qualified for and the number of searches. Plus the total number of searches on these keywords and the number of searches on individual mobile devices.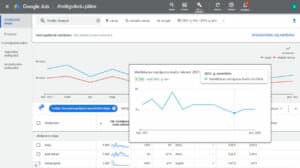 It should be noted that this is the total number of searches on the Google Network, not the number of people who clicked on the link "linneja.lv". And don't take the number of searches listed by Google literally - it's a rough estimate.
That's it. Good luck!
Order your WordPress site now!
The sooner we start - the sooner your website will be ready!
And you will be available on the Internet!